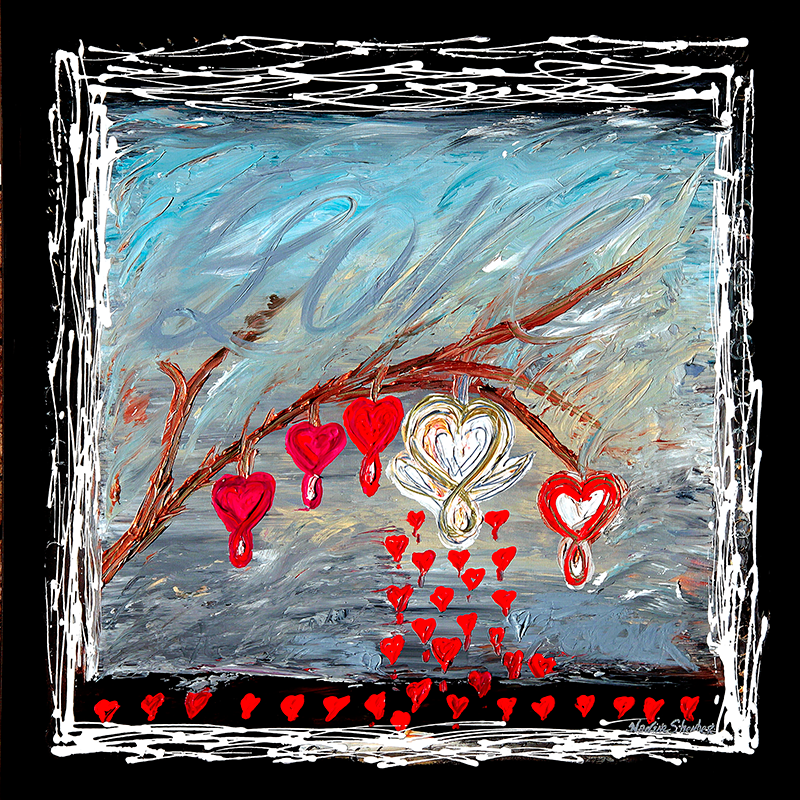 What People are Saying About Bleeding Hearts
I personally have not met Scott, but we have exchanged numerous emails regarding his book. Bleeding Hearts left me so spell-bound, I read the whole book in one day.
I too came from a very dysfunctional family, and it has left me with great scars. I've abused alcohol and prescription pills as a way to run away from the pain, but it is very difficult to run from yourself.
I very much admire Scott for his ability to forgive and move on with his life. What he endured would have been way too much for me!
I often think of Scott and his family and have tried to pull strength from Scott, knowing that it can be done – its just a very tough road.
I hold a lot of shame and guilt within me and I know that started when I was very very young. My Mother and Father would always refer to each other as 'well it's your Dad that drank so much' or 'it's your mother that fell apart'.
I'm still fighting a battle against myself – and yes I am going for counseling …. but when you have been blamed all your life for something you did not even do – it's very hard to get out of that mindset. Very hard to forgive. I have a terrible habit of self sabotage – when things are going good – I purposely wreck them, don't even know I'm doing it. Once again, that is the reason the book struck me so hard. It was very well written, and an easy read – not a book that kept you jumping all over the place. I do remember putting the book down and just bawling my head off …. for Scott, his family and myself.
Scott, I personally admire the courage you had to write the book, to tell your story. I admire that you have forgiven people who have done you wrong in the past and that your moving on with your life.
What you went through was probably so surreal it did not sink in at first I would imagine. This has made you a very strong person. I will always hold you in my heart …. and think of you when my times are tough.
Janet M
I found your book remarkable. Very few people would have the courage to share a story like this. I hope this book reaches people that have experienced or are experiencing violence; I believe it could change their life.
Amanda R
Finished the book, it was an amazing read considering it was written by someone who had only read a couple books himself before actually writing a book of his own. 10/10 short and bitter sweet, with out all the fancy wrapping.
Carl M
I'm not one to read books but I read this amazing book on my flight home, could not put the book down,an amazing book, an amazing and strong family, an amazing message would recommend this book to anyone and everyone!
Chlo M
Scott tells a story that few (fortunately), will encounter. But everyone can learn from, and appreciate, the strength and resilience he displays. The story is a compelling page-turner, and ultimately speaks to the capacity of the human spirit to cope and even thrive in extreme adversity. A great read for both interest and inspiration.
Coral T
Hi Scott, I have finished reading your book a week or so ago. I was apprehensive to read it due to stirring up old emotions and nasty memories many of us had at that time. I just want you to know that it made me very sad to hear of the awful hardships you all endured (I just about couldn't finish reading the book) but I did and so glad I did!! The last two chapters ( the afterwards about yourself and your Mom) made it all worth reading!  I am so happy that something good came of it all and that you were strong enough to write this book so that others will be brave enough to speak out about abuse Bravo Scott!! Well done!
Verna R
This review is about the book I just currently read 'Bleeding Hearts" by Scott Hay.  The title itself really reflects on the book and how people may feel when reading it.  The book was very well written and in my opinion was one of the best books I've read in a long time.  The pain and suffering one family can go through and still be a survivor through it shows strength and courage.  This book really brings the reader in and in my case I not only felt empathy for the family , but hope for other families who may of gone through a traumatic experience .  The details in the book about the violence that went on in the home gave me a clear understanding that Domestic Violence is something to take seriously; and I  believe that this book will help other families who may be going through a similar situation.  It brings a negative to a positive at the end which brought the family closer.  In conclusion.. 'Bleeding Hearts' reads exactly how it sounds. A family undergoing years of abuse and pain but in the end shows that love conquers all.  Great Book and highly recommend others to read it.
Jaymie H
Scott's book is very inspiring and made me look at how I was raising my two boys. It defiantly inspired me to be a better father, husband, son and friend. Thank you Scott for having the courage to put your story to pen.
Kevin C
Heartbreaking. An absolutely courageous feat for Scott to share his story – I have to commend him. It really speaks to how we should all approach each other from a position of compassion, as you never know what someone has been through or the hardships they are faced with. I highly recommend this book and think it would be a great story to share surrounding domestic violence prevention.
Lindsey L
Bleeding Hearts is such a great book. Easy to read, very raw and filled with such emotion that could be felt in every word. Reading about Scott's family and the pain they endured, the struggle of going through a tough situation and making it out with nothing but positivity and love really does prove that there is a rainbow after every storm even if the sacrifices are hard to accept at the time.
Jean S
Scott I am very proud of you. You took a big step to help others understand and know that there are more people out there being abused every damn day. Hope others read the book and see there own lives in it and get the help they need.
Joie
Scotts book makes you have to think about how we accept the events that happen I our lives He didn't write his story as a victim, but as a survivor. It is so easy to lay blame and point fingers, but his book shows that when you don't have to focus on negatives, you have the choice to look at the positives. We can pick to accept, forgive and move forward.
Kim G
I pre-ordered you book at Blurbs, intending to go to your event at Falun and didn't make it. Any way I grabbed it yesterday and read the whole thing when I got home.
I loved that you included your story and some of your Mother's.
I am working on my own book of healing homicide, called 'Trauma as Medicine' which obviously (by the name…) includes some full circle/restorative experiences/practices.
My mother was brutally murdered by a stranger in the parkade of her work in Edmonton in 95, he later killed himself in jail.
My healing journey has led me to work in the community he was from (Saddle lake) as well as create retreats/programs to guide people in making medicine from their own life's experience.
Anyway I have lived West of the 5th for almost 9 years and so was called to buy your book with you being a local author.
Thank you for sharing your story.
Sarah K
Thank you so much for sharing your story. While reading "Bleeding Hearts" I couldn't help but relate some of your childhood experiences to my own. Like you, I grew up on a farm and spent all my time outside with my siblings…four brothers and two sisters. We never played inside because mom would put us to work; not to mention that the internet and computers weren't invented yet. My father passed away when I was nine from a heart attack that was caused from over-drinking and although he wasn't abusive I feel he robbed me of so many special memories because of it. It took me years to forgive him for leaving us and that's what your story is all about to me…forgiveness.
Throughout your book you are constantly forgiving others for their actions that directly affected your life. The way the police treated you was unimaginable to me. I always believed they were here to protect us but in your case they were trying their best to destroy you. You forgave your father almost every day for his short fuse because the good qualities he possessed outweighed the bad. The ultimate forgiveness was towards your mother though. Being a mom I can't even begin to imagine how she felt not knowing if her children would ever be a part of her life again. By forgiving her you allowed her to live again.
You must love your parents very much to be able to forgive them both and move on with your life in such a productive manner. So many people let the past fester inside them and instead of letting go they let it drag them down. I was so happy to read all the way through your book (twice) to discover how mature and generous you live your life. Despite the tragedy you were able to turn an extremely ugly negative into an overwhelming positive. Congratulations to you because not everyone is capable of doing that.
"Use the darkness of your past to guide you to a brighter future"
This line has stuck with me. I know it's common sense to live your life in the present but when you experience unpleasant things in your past you tend to not let them go. A bright future requires letting go. Your book has left a lasting impression on me that although life can have tragic moments it can still be filled with love and enjoyment. The happy moments are more plentiful than the sad ones so why hold on to the few bad memories…no matter how significant or insignificant they are.
I wish you all the best in your future and want to thank you again for writing such a profound, personal story that is sure to have a lasting affect on its readers.
Cindy O
Just read the book bleeding hearts, great book, thanks to friends I met in Mexico for telling me about it, I wanted it to be longer so I could find out more about the family but great job.
Marlene F
Best book I've read by far!! It gave me goosebumps!! Once I started reading it I could NOT put it down! I would recommend this book to anyone!!
Vata L
Every single time I read a book it changes my life, my favorite books are non fictional, educational and for my greater good. I also just love a true story. This book had all these things. Here I have just finished a book that is the heartbreaking/heart warming true story of my friend Scott Hay. Scott, with this book you have taught me and reminded me of so many things, My heart is heavy as I sit here reminiscing on every word I just read and feel so many emotions toward you and your family. Ultimately, I am happy you shared it and I am privileged to see how far you've come. I am truly inspired, hopefully one day I can do the same. Thank you for my own personal copy and the beautiful words you wrote to me and I am also lucky for having shared monumental moments with you and your friends in Vietnam, thank you for that too! See you in Belize some day!
Natasha S
Scott, i just finished your book. First off the name of your book is perfect and I love Nadine's work. What courage you had to have had to write this. Your story is about your family but while i was reading it i saw me and my family in it as well. Both as a child and as a married woman with children. I am just a few years younger than your parents. Unfortunately abuse was not spoken of back then and it still is hushed in so many families today. Thank you to your mother for the afterword. So much of what she wrote rings true in my mind. I am so very happy that she has been able to become a better person And that you and your family are strong together. We are always changing because of circumstance sometimes for the better, sometimes not but we cope with what we are dealt at the time and carry on. Thank you for sharing your story. I look forward to reading it again.
Loretta J
Hello Scott, I read your book last year and the first thing that came to mind was the incredible strength and courage you have to be able to share such a private and painful story. Your book shows that family violence can be present in large or small communities and the tragic outcome tears the family apart. The shift in the family dynamic to not only lose your Dad but to also have to face your Mom's trial and prison sentence and the emotions and healing that you must have gone through have been incredible. Thank you for sharing your story.
Sheila F
I read this on the plane ride home this morning and have been telling everyone about it. Real life in rural Alberta described so accurately. Who would know the pain this family was in. Thank you Scott for your COURAGE to tell your story and I wish you and your family all the best on your journey.
Jackie P
Your book was an intense read, once I started I couldn't put it down, except to brush the tears aside. You're a true hero, the emotional and physical pain you endured and yet you forgive. You're one of a kind, don't ever change. Thanks for sharing your story, my son is looking forward to reading it tonight.
Heather G
I just finished reading your book about 30 seconds ago. It is the 2nd book I have ever fully read. I just wanted to say I really enjoyed it. It brought up mix emotions with in and personal past experiences. I can honestly say I don't think I even remember any of this the time we lived together and the stuff we went through. I just saw you for who you were then and thought you were a pretty good guy. You and Mike sure have show become people that I respect. You may not realize the impact you had on my life when you spoke with my mom in my about my addiction at the time. It very well could have saved my life and I want to thank you again for that.
Dave P
Hi Scott, we don't know each other but I was given your book a few days ago and just finished it. I cried often even not knowing your family or how this would really feel. I just wanted to say how heart broken and empathetic I felt reading it. I have a son and my worst fear for him is to feel what you felt – the rock bottom loneliness, hopelessness and desperation for things to be different. My hope is for you and your family to have found peace and never feel that again. Take care.
Leanne P
I lived with Scott after his ordeal but I never knew all the details until I read his book. I cried with the pain he went through. He has come out of this strong and supported to others rather than bitter and angry. It's a must read for anyone who has faced traumatic adversities in their life.
Elaine C
ISBN Numbers
Hardcover: 978-1-4602-6052-4
Paperback: 978-1-4602-6053-1
E-book: 978-1-4602-6054-8